Tanzania's Port Construction Begins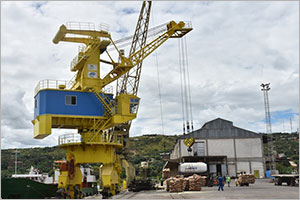 The foundation stone has been laid for the construction of a US$20m inland port in Tanzania.
Tanzanian Prime Minister Kassim Majaliwa laid the foundation stone for the new port on Lake Tanganyika, the Prime Minister's office has said.
The statement said the construction of the port in the Tanganyika district of the Katavi region will boost trade between Tanzania and the Democratic Republic of the Congo, Zambia and Burundi.
According to the statement, the premier said the construction of the port will not only improve transportation between the neighbouring countries, but it will also improve business in the region.
Mr Majaliwa said two passenger and cargo ships will be able to operate at the port upon completion of its construction.
An official from Tanzania Ports Authority, Baraka Mdina, said the construction of the port will involve building of a 150m berth.
The construction of the port which is scheduled to be completed in 24 months will also involve port infrastructure and offices, said Mr Mdina.
Posted on : 15 Jul,2020
Buildmart is Africa's leading directory and market news website for the building and construction industry | Kenya | Tanzania | Rwanda | Ethiopia