CONSTRUCTION OF SELANDER BRIDGE IN TANZANIA OVER 40% PERCENT COMPLETE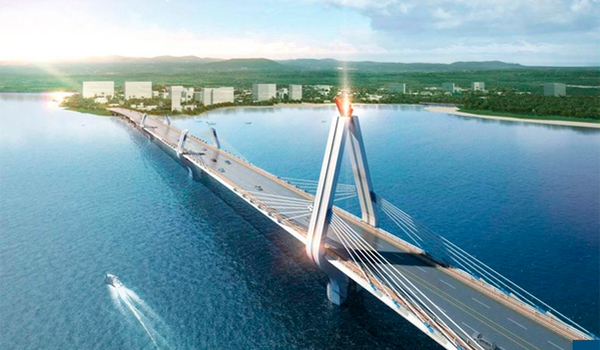 The ongoing construction of the US$ 112.8 M Selander Bridge project in Dar es Salaam, Tanzania is reportedly over 40% percent complete.
This was revealed by Tanzania National Roads Agency (TANROADS) Chief Executive Officer Eng. Patrick Mfugale when Eng. Isack Kamwelwe the country's Minister for Works, Transport, and Communication visited the site to inspect the work.
Challenges that the project has faced
According to Eng. Mfugale, the project which broke grounds in 2018, would be far much complete was it not for some minor challenges such as the presence of under-water cavities which have so far been resolved and all under-water works completed.
The major challenge is the rise of the Covid-19 pandemic which has led to the suspension of flights in some of the countries where experts and materials for the project were sourced from, and consequently necessitating the discontinuation of the construction works.
However, the CEO assured the minister that the bridge will be ready for operations by June, next year, four months before the official completion date, because the remaining work is not as challenging as the completed one, and should the suspension of flights in foreign countries be lifted soon.
An overview of the eventual Selander Bridge
The new bridge is funded jointly by the government of South Korea at 82.9% of the entire cost, and the government of the Republic of Tanzania. It connects roads linking Aga Khan Hospital and Coco beach and it measures approximately 6.23 kilometers.
With a 180-tonnage Capacity, the bridge is expected to ferry 55,000 vehicles or its whereabouts per day, and this is expected to significantly reduce congestion along the overwhelmed independence-time Selander Bridge.
The old Selander Bridge was constructed back in 1929 and named after John Einar Selander, Tanganyika's first Director of Public Works.
Posted on : 15 Jul,2020
Buildmart is Africa's leading directory and market news website for the building and construction industry | Kenya | Tanzania | Rwanda | Ethiopia