Construction plans begin for Tanzania's Sinoma cement plant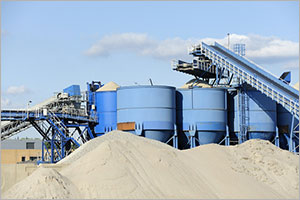 A new mega cement plant is set to be constructed in Tanzanian city of Tanga, a move that promises cutthroat competition in an industry that is already facing a myriad of challenges such as price wars, high power costs, cheap imports and counterfeits.
Compensation has started for 94 residents to pave way for construction of the Sinoma cement plant that has been touted as the largest cement firm in East Africa.
The $1billion factory and power station Sinoma International Engineering Co. Ltd. and its subsidiary Hengya Cement Co. Ltd, according to government sources.
Sinoma International is a subsidiary of state-owned China National Materials (Sinoma) which merged with state-owned cement and materials producer CNBM 2018, creating the world's biggest cement group.
Upon completion the factory will produce 7 million tons of cement annually, with 30% earmarked for domestic use and 70% for export.
The move to construct the largest cement in east Africa comes even as producers face turbulent times due to dwindling prices and shrunken sells.
In Uganda, a 50-kilogramme bag now retails at an average price of Ush28,000 ($7.5) from Ush39,000 ($10.8), with some brands costing even lower. Hima Cement and Tororo Cement have been dominant market players.
This has been as a result of the entry of Simba Cement and Kampala Cement in the market increasing competition amid lower demand.
It also follows drastic measures introduced in 2018 by Ministry of Trade, Industry and Co-operatives to fast-track licensing of new cement manufacturers. Removal of 10 per cent import duty on clinker has also lowered production costs.
In Kenya the the East African Portland Cement Company (EAPCC) is offering voluntary early retirement for its 800 employees to avoid total collapse. In 2019, the company hatched a plan to sack all its employees by declaring all positions redundant.
It did not succeed and now the company has asked staff to apply for voluntary early retirement.
The company reported a 30% increase in loss to Ksh1.26 billion for the half-year ended 31st December 2018 up from the Ksh949.2 million loss it posted in the same period the previous year.
The company has attributed the heavy loss to increased output prices, a sluggish market and production challenges arising from the company's tight working capital position.
Bamburi Cement on the other hand posted a drop in its pre-tax profit from Sh4.5 billion to Sh3.5 billion in the first-half of this year.
The cement manufacturer said the figure does not factor a one-off receipt of Sh218 million from the insurers in the second-quarter of 2009.
Compared to the same period last year, the group's turnover reduced to Sh13 billion from Sh16 billion, due to slower cement market growth in Kenya and Uganda.
But according to a report from BMI Research, the Sinoma cement plant construction is needed to help support a boom in infrastructure development in the country, with work on $5.7 billion of projects expected to start in 2020 and beyond.
Posted on : 15 Jul,2020
Buildmart is Africa's leading directory and market news website for the building and construction industry | Kenya | Tanzania | Rwanda | Ethiopia