220-km toll road connects landlocked Ethiopia to ports in Djibouti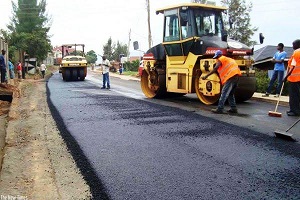 The Addis Ababa-Adama expressway is one of the first major expressways in the East African country and is considered as Ethiopia's major road project. The project covers the busiest segment of Ethiopia's vital road infrastructure which links the capital Addis Ababa to the Djibouti Port. Coming closely on it's heels is the newly built 220-km toll road connects landlocked Ethiopia to ports in Djibouti and is expected to meet Ethiopia's growing import-export needs.
Ethiopian Roads Authority (ERA) said that the asphalt concrete toll road, connects Ethiopia's eastern city Dire Dawa to the border town of Dewele neighboring Djibouti. The road will significantly meet Ethiopia's growing import-export needs by solving transportation hurdles that hindered the Ethiopia-Djibouti economic corridor from achieving its full potential.
Djibouti is the key as it handles about 95 percent of Ethiopia's export-import trade. The 5.2 billion Ethiopian birr (about 179 million U.S. dollars) road project is designed to boost Ethiopia's economic growth by riding on the import-export trade traffic of the eastern trade-route. Upto 85 percent the construction work of the project, was financed by the Export-Import Bank of China while the remaining 15 percent was covered by the Ethiopian government.
The new road according to Ethiopia's Minister of Transport Dagmawit Moges is a massive gift to the general transportation along the eastern economic corridor and will reduce the travel time from the previous 10 hours to around 4 hours.
The road project was originally started in 2016 and is the second toll road in the East African country, after the 85-km Addis Ababa-Adama toll expressway.
Ethiopia, had previously accomplished various other major infrastructure projects, including Africa's first transnational electrified railway, linking Ethiopia's capital Addis Ababa with the Red Sea nation Djibouti.
According to figures from ERA, as the Ethiopian government envisages to enhance road connectivity across the country, road mileage has increased from 26,000km to 150,000km over the past two decades in the country. The Addis Ababa-Adama expressway has also solved the severe traffic congestion that had been extensively affecting Ethiopia's aspiration to grow the economy and has been a major catalyst boosting the transport flow along the main economic corridor.
Posted on : 06 Jan,2020
Buildmart is Africa's leading directory and market news website for the building and construction industry | Kenya | Tanzania | Rwanda | Ethiopia