The Much Awaited 3rd Buildexpo Ethiopia 2020 Returns To Addis Ababa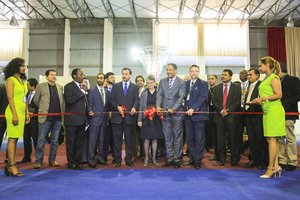 The 3rd edition of Buildexpo Ethiopia is back at Millennium Hall in Addis Ababa, the one place to source new products, services and technology from around the world. The 3 day multi country international trade event brings to Ethiopia exhibitors from 22 countries. The main attractions this time around are the European and Asian Pavilions showcasing the latest products and innovations which are now being made available to the Ethiopian industries.
Ethiopia in 2020 and beyond – Ethiopia is one of the world's largest untapped markets and is the fastest growing economy in Africa today. With a population of over 100 million and an annual economic growth rate of 10% over the past 15 years, it presents a unique opportunity. In addition to its strategic positioning as a long-haul transfer hub, Ethiopia is increasingly becoming an important destination for manufacturing. With the African Continental Free Trade Area Agreement (AfCFTA) also in force, companies are looking at another opportunity at increasing exports to Africa.
Highlighting key sectors to promote and introduce new products equipment and services to the upcoming Ethiopian market is the primary goal for the trade exhibition. Held concurrently with the Ethiopia International Trade Exhibition, sectors include building and construction, lighting, heavy equipment, tools and hardware, woodworking and sawmill machinery, large automotive and spare parts, power and energy, consumer products, agriculture, materials printing, packaging and more. The event promises to introduce the Ethiopian market to world class industry leading products and services under one roof.
The much awaited 2020 edition will be open from 10:00 AM to 6:00 PM for the public till 26th of February 2020. Ambassadors, trade delegations and representatives from various countries and ministries are confirmed to be present to meet and support the companies representing their countries at the event.
Special pavilion participation from the UAE and Germany is followed closely by companies from China, Saudi Arabia, Egypt, Italy, India, Turkey, Qatar, Malaysia, Russia, Pakistan and Bangladesh. Companies from the African continent especially from Kenya, South Africa and Ethiopia are also participating among the worlds' leading global brands.
"Ethiopia is no longer a country that can be ignored. The interest shown by the business community towards the event shows that the industry leaders fully understand the importance and opportunities that are presented by the fair as well as the long term business relations it will create." said Emily Parkson, Event Director from the organizers, Expogroup.
As the biggest business and trade event in Ethiopia, this event presents and opportunity for all industry leaders, innovators, business owners, importers, entrepreneurs and upcoming traders from various industries and backgrounds to source their needs and interact with international brands under one roof.
Trevor Daniel
Media Manager
Buildexpo & Ethiopia International Trade Exhibition (EITE)
Email: feedback@expogr.com
Int'l: +971 43050755
Posted on : 30 Oct,2019
Buildmart is Africa's leading directory and market news website for the building and construction industry | Kenya | Tanzania | Rwanda | Ethiopia