Mega dam construction in Ethiopia promises remarkable progress says government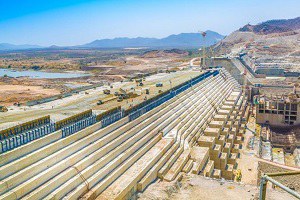 Ethiopian Broadcasting Corporation (EBC) released a report stating that two turbines of the mega dam can start generating hydroelectric power by the early months of next year.
Seleshi Bekele, Minister of Water, Irrigation, and Energy paid a visit to the project site of this mega dam. Bekeke said that the project has shown remarkable progress after contracting out to five international contractors from Metals and Engineering Corporation (METEC), a defense run state owned conglomerate.
The civil construction aspect of the dam, which was delayed due to electro-mechanical work, has also commenced by Salini Impregilo, an Italian company, which in Ethiopia for over 50 years.
According to the report of EBC, more than 96 percent of saddle work on the left and right side of the dam has completed, and contractors are currently busy finishing the remaining works.
Two power generating units that will generate around 750 MW of power are expecting to wok fully by the end of December 2021. On completion, the whole project can generate a total of 6000 MW of electric power, out of which some portions are intended to export Sudan.
Ethiopia is expecting to complete the project in 3 years.
Posted on : 28 Oct,2019
Buildmart is Africa's leading directory and market news website for the building and construction industry | Kenya | Tanzania | Rwanda | Ethiopia