Ethiopia begins the construction of Adwa centre in Addis Ababa.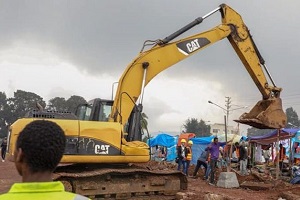 The Adwa Centre (known as Anti-colonial struggle memorial centre) has begun its construction in the heart of Addis Ababa. The land for this construction was once given to Ethiopian born Saudi Billionaire Mohammed Ali Al Amoudi's company, Midroc construction, but later it's taken by the city administration to build this marvelous structure.
The structure of Adwa shows the triumph of Adwa and Patriots, which reflects the history of the entire African victory. The centre is large it has an enormous capacity of 2000 people, meeting hall, three smaller auditoriums to hold around 400 people. Along with that, it has a museum, 600 car capacity parking space, cinema theatre, library, gym, cafeterias, and childcare centre to help people with their leisure activities.
The elegant design of the building features the letter A, while people are wondering why it doesn't contain Ethiopian Geez script the pie sign instead. Adwa was the first-ever African victory over the European colonization which strengthens the entire African countries to struggle against colonizer for their independence. The victory of Adwa is considered as a victory of the whole of Africa.
The construction of this structure is undertaken by a Chinese firm, namely China Jiangsu International Economic and Technical Cooperation. It's expected that the construction is going to finish in two years.
Posted on : 09 Sep,2019
Buildmart is Africa's leading directory and market news website for the building and construction industry | Kenya | Tanzania | Rwanda | Ethiopia