40 intersections to be constructed in Addis Ababa to ease city traffic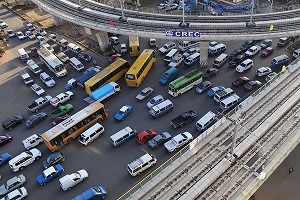 The ever-growing population of Ethiopia capital Addis Ababa, which now going up to 3.5 million is a concern to the government for its transport traffic control. In an attempt to manage traffic control, the authority is going to construct 40 intersections in the capital city Addis Ababa.
The authority will hire a consultancy firm to study, design and, look after the construction of the intersections in the city, for which tender has already been declared.
Addis Ababa City Road Traffic Management Agency, state that tender wining company has to conduct traffic survey, prepare the preliminary, final design, location of the intersections, cost estimation and supervise the whole project during its implementation. Along with that, the firm also has to identify the intersections requires up-gradation and analyze the existing drainage system within 100 m of the area.
Last year the agency has upgraded 31 intersections, traffic lights and signal worth USD 7.6 million. In the same year on March, the city has also launched another project to design an Intelligent Transport System Master plan which estimated to cost around USD 20.8 million funded by World Bank. They made several improvements such as 27 intersections, five corridors, 22 existing signalized locations, and 132 road junctions.
According to a recent study by an Indian firm, the city is currently hosting around 585,000 vehicles and the joining of 20,000 additional vehicles every year is concerning the authority to make required efforts to maintain the city traffic effectively.
Posted on : 11 Sep,2019
Buildmart is Africa's leading directory and market news website for the building and construction industry | Kenya | Tanzania | Rwanda | Ethiopia