USD 1.38 billion Rufiji hydropower plant project begins construction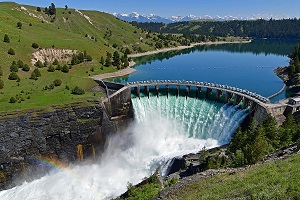 Tanzania President John Magufuli finally laid the foundation stones of Rufiji Hydroelectric Power Station (RHPP) in Stiegler's Gorge marking the beginning of its construction. The 2,115 MW Rufiji Hydropower project has been handed over to joint venture of Arab Contractors company and Elsewedy Electric Company to be completed by 2022. Moreover, Arab Contractors received a contract to design and construct a dam and power plant in October 2018.
Magufuli told that they saved the people of Tanzania from power shortage, the future economy of Tanzania needs an adequate, cheap and, reliable power supply which can be achieved with hydropower. The project has been stalled for many years, and they will build it with their own money.
The dam on completion will be the fourth largest in Africa and the ninth-largest in the world. Featuring a height of 134 meters this dam will have an area of 1,350 sq km and spread around a length of 100 km. The power plant is built for Tanzania Electric Supply Company Limited (TANESCO), and it's expected to boost countries hydropower energy more than triple to 562 MW with an estimated budget of USD 1.38 billion.
John Mnyika shadow minister for energy has a different view on the project. He told that the project is costly and going the affect Tanzanian economy harshly. He insisted that the project could take around nine to 12 years instead of Government promised three years, and also cost might reach to USD 9.8 billion from USD 1.38 billion.
Posted on : 21 Aug,2019
Buildmart is Africa's leading directory and market news website for the building and construction industry | Kenya | Tanzania | Rwanda | Ethiopia