KICC gearing up to host Buildexpo 2019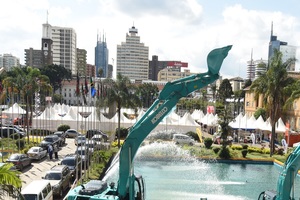 26th June, 2019 - The 22nd edition of Buildexpo Africa is back in Kenya at the KICC Nairobi, to be held from the 04th to the 6th of July 2019. At East Africa's largest building and construction fair, exhibitors from over 40 countries who are the finest in building, construction and infrastructure development will be showcasing their products, services and equipment. The event will also feature awards in innovation and design that will be presented to the most innovative products at the expo along with a Builder's Meet session for the top builders in the country.
Buildexpo Africa is the only show with the widest range of the latest technology in building material, mining machines, construction machinery and heavy equipment. Countries dominant this year are Germany, China, Portugal, South Africa and India with several leading international brands looking to build a solid foundation in the East African market. Italco Middle East Fze (UAE) Herrenknecht (Germany), Bauer Maschinen Gmbh(Germany), Masa Gmbh (Germany) Ferberto - Estruturas Metailicas, S.A. (Portugal), Superfit Steelcon Ltd (Portugal), Acrysil Limited (India), Nordimpianti System Srl (Italy), Rigifoam (South Africa), Fabco Plastic Factory Co., Ltd. (Saudi Arabia), Foshan Tenne Sanitary Ware Co., Ltd (China) and Vermeer Equipment Suppliers Pty Ltd (South Africa) are some of the market leaders in their respective industries.
The event is sponsored by major companies from Kenya that include key players such as Ganatra Plant and Equipment Ltd showcasing JCB Equipment and Machinery, CMC Motors Group Limited representing Eicher and MAN trucks, Regal Equipment Limited representing Hyundai Construction Equipment, PRD Rigs, Elite Tools Ltd, Nirmal Fabricators Limited, Achelis Material Handling Limited (AMHL), BASF East Africa Ltd, Sika Kenya Limited, Newmatic Africa Limited, Tononoka Steel, Tarmal Steel, Rock Plant East Africa representing Hitachi Construction Machinery, Wilo East Africa Ltd, Crown Marble & Quartz, Jaquar & Company Pvt. Ltd, Senok East Africa Ltd and United Tools Limited.
This mega expo is the ideal forum for international players to showcase their products and services to the huge market in Africa. Visitors from across East Africa and trade visitors are invited directly in collaboration with regional trade bodies in Kenya, Tanzania, Ethiopia, Uganda, Somalia, Mozambique and Congo. The visitor registrations are much higher including top industry professionals such as builders, developers, architects, consultants, engineers, manufacturers, importers& distributors. In terms of exhibitors, the event will showcase a wider range of products and equipment also this year since there has been a focus on the mining, lighting, wood and water industry.
The event generates access to about 14.3 million business prospects during three-days, with suppliers representing over 10,000 products, equipment and machinery in an expanse of more than 10,000 square meters. Last year's event witnessed international pavilion participation from India, Turkey, China, Italy, Malaysia and Germany. Over the years, Buildexpo has grown to cater to the demands of not just the Kenyan market, but of the whole region of East Africa.
Kenya is certainly one of the biggest markets in Africa, but Buildexpo also lays strong emphasis on attracting traders and importers from neighboring countries. According to the World Bank, infrastructure is the key to Africa's economic turnaround and will play an even greater role in the continent's continued development. Kenya, in particular, is making giant strides in infrastructure and urbanization, with demarcated economic zones, commercial and residential buildings, and resorts for tourists. The country's infrastructure and construction industry value is expected to double between 2019 and 2020. There has already been a spike in the demand for building material and machinery.
Visit: http://buildexpo.expogr.com/ for more information or contact:
Trevor Daniel
Media Manager
Buildexpo ( East Africa )
Email: buildexpo@expogr.com
Int'l: +971 43050755 | Kenya: +254 792268513
Posted on : 26 Jun,2019
Buildmart is Africa's leading directory and market news website for the building and construction industry | Kenya | Tanzania | Rwanda | Ethiopia