BuildExpo seeks to improve construction in Rwanda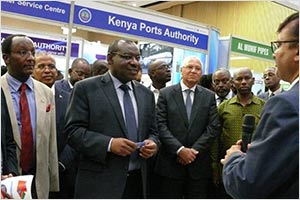 The second edition of Build Expo was opened on Wednesday May 23rd by the Minister of Infrastructure, Hon. Ambassador Claver Gatete, at the Kigali Convention Centre. The event attracted a number of distinguished guests from all walks of life including ambassadors from other countries, foreign ministers, members of the public and private sector and media.

The Regional Marketing Director, Duncan Njaye, gave a brief history of Expo Group and said the company started its operations in 1996 with export-oriented international trade exhibitions in the Middle East and East Africa. The company has been able to organize a total of fourteen annual trade fairs in the region and also presented several other events in emerging markets in Africa, China, Australia, India, and Latin America.

Minister Gatete commended the work done by Expo Group. ''We have just visited different exhibitions and you can see that they touch almost all sectors in Rwanda. I have seen the technologies for energy, construction, water and housing and many other things that will benefit this country that's moving very fast when it comes to construction,'' he said.

It was also noted by the Minister that Rwanda's GDP increases by 10% every year and for Rwanda to sustain this there is a need for new technologies, new partners and new friends to make sure that there is growth at a cheaper cost. He thanked the organizers for having brought the services and products closer to the people. ''The rate of urbanization, which is currently at 20%, is expected to rise up to 30-35% by the year 2020. Therefore, for us to be able to sustain it we need these services the exhibitors are showcasing today,'' he concluded.

The event was also graced by the Angolan Minister of Construction, Mr Manuel Tavares De Almeida, who showed his appreciation to Expo Group for the initiative they have taken to host the event that's of such great importance not only to Rwanda but the rest of Africa too. The event will end on May 25th.
Posted on : 24 May,2019
Buildmart is Africa's leading directory and market news website for the building and construction industry | Kenya | Tanzania | Rwanda | Ethiopia