ADB Approves $70m Loan for Road Project in Nigeria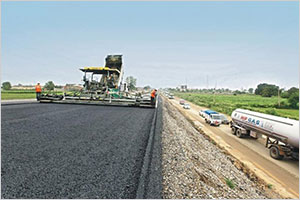 The African Development Bank Group has granted approval of $70m loan for a road project in Ebonyi State, Nigeria. The bank is directly providing $40m, while its co-financier, the Africa Growing Together Fund (AGTF), is contributing $30m.
Adding to it, the Islamic Development Bank is providing Nigeria a loan of $80m, and the Ebonyi State Government is providing $17.60m.

The current loan is estimated to cover the rehabilitation and asphalting of a 51km stretch between Nwezenvi and N'Doko, and part of the corridor between N'Doko and Ezzamgbo spanning 38.91km.The overall cost of the project comes to a total of $167.60m and the construction is expected to be completed in five years, creating approximately 1,400 jobs during the construction phase.

After completion, the road network is expected to cover a total of 177.81km, and serve as an international link between the State of Ebonyi and Nigeria's eastern neighbor, Cameroun, in addition to connecting Ebonyi to Benue and Enugu.

The bank said that the project is in line with its High 5s priorities and its assurance to strengthen the quality of life of Africans by improving accessibility and road safety in its member countries.

The African Development Bank InfraCredit is a specialized infrastructure credit guarantee company, focused at improving local currency debt instruments, to finance suitable infrastructure projects in Nigeria.

The investment in InfraCredit is expected to boost the local institutional investor funds, including pension funds, into financing long-term infrastructure projects from the local bond markets.
Posted on : 30 Apr,2019
Buildmart is Africa's leading directory and market news website for the building and construction industry | Kenya | Tanzania | Rwanda | Ethiopia