Buildexpo Africa returns to Rwanda in May 2019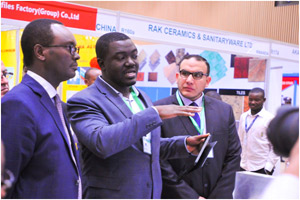 To be held from 23rd May to 25th May, Buildexpo, the biggest series of building events in Africa is all set for a comeback in Kigali Rwanda. Supported by the Rwanda Development Board this event will be the second edition for the country.
The organizer for the event has confirmed that a large number of companies from over 20 countries have already confirmed their participation at the event. There are companies from Rwanda who have made their presence among the industry leaders namely SDP PLUMBING TECHNOLOGY promoting their range of water pipe planting systems, AKAGERA BUSINESS GROUP who are leaders in hardware, paints, electronics, security & safety systems, S & H INDUSTRIES LTD (Hippo Roofings) showcasing the latest roofing technology and ALFA HOLDINGS LTD displaying their range of electric cables.
Countries dominant this year are India, Germany, China, Egypt and the G.C.C with several major companies already confirming participation. International participation include BAUER MASCHINEN GMBH from Germany showcasing construction machinery products, MEMAAR BUILDING SYSTEMS FZE from UAE presenting their expertise on pre engineered steel buildings & sandwich panels, AL NAFIE STEEL CO. from Saudi Arabia bringing steel products & metal industries to Rwanda, GLOBAL GREEN BRIDGE FZE from UAE showcasing 3d construction system, load bearing & non-loading wall panels, different wire meshes, FRP rebars. Another key player is ESQUIRE MACHINES PVT LTD from India presenting construction equipments like concrete mixers, concrete mixer cum hoist, reversible drum mixer, pan mixer, material hoist, suspended rope platform, ALUCOPANEL FIRE SAFE ACP from UAE introducing aluminium cladding - composite panels and ROXY FOR METAL AND PLASTIC PRODUCTS from Egypt displaying all kinds of pvc - ppr pipes and fittings.
The Buildexpo also enjoys support from premier trade associations from around the world like the Federation of Indian Export Organizations (FIEO – India), Copper Development Association of Africa (CDAA – South Africa) , Asociación Argentina de Energía Eólica (AAEE - Argentina), Continental Automated Buildings Association (CABA – Canada) and the Canadian Mining Suppliers (CMS – Canada) have also echoed support along with regional support from Rwanda Convention Bureau (RCB – Rwanda) and Energy Private Developers (EPD – Rwanda).
The construction industry as a whole is witnessing consistently increasing growth with 2nd quarter hitting the 11% mark in 2018 and industrial growth registering 12%. Reforms and restructuring of the mining policies are also showing great results with the industry now targeting to fetch up to $600 million from mineral exports this year and $1.5 billion by 2024.
Allwyn Fernandez
Media Manager
Buildexpo ( East Africa )
Email: buildexpo@expogr.com
Int'l: +971 43050755
Posted on : 27 Mar,2019
Buildmart is Africa's leading directory and market news website for the building and construction industry | Kenya | Tanzania | Rwanda | Ethiopia