Ethiopia to host Buildexpo Africa Exhibition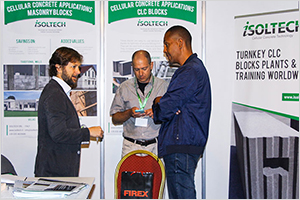 The Buildexpo Ethiopia Exhibition will be held from 21 – 23 March 2019 in Addis Ababa. The event is focused on catering to the demand for quality building and construction – equipment, materials and products in Ethiopia, which at 8.5% is one of the fastest growing economies in the world. Buildexpo Ethiopia will showcase products and machinery used globally in the construction and infrastructure sectors.

Top companies from around the world are expected to explore the Ethiopian market at the event like
Qatar National Aluminium Panel Co., Aquagas Plastic Industries LLC, Memaar Building Systems FZE, Al Nafie Steel Co. etc. The building sector has seen double digit growth, expanding by 37% annually, and is ushering in a new phase of development for the country.

Notable as the second most populous country in Africa, at over 100 million, Ethiopia is one of the top markets in Africa, both for its size and growth. Ethiopia's economy witnessed a steady, macro-economic growth averaging a strong 10.3% a year from 2006/07 to 2016/17, compared to a regional average of 5.4%. Ethiopia's gross domestic product (GDP) is also estimated to have rebounded to 10.9% in FY2017/18. Construction and agro based services accounted for most of the growth, with a sizable contribution from the manufacturing sector.

Ethiopia's infrastructure successes include developing and upgrading its network of trunk roads and a rapidly expanding access to water and sanitation. The government is implementing the second phase of its Growth and Transformation Plan (GTP II) which will run to 2019/20. GTP II aims to continue expanding physical infrastructure through public investments and to transform the country into a manufacturing hub. GTP II targets an average of 11% GDP growth annually, and in line with the manufacturing strategy, the industrial sector is set to expand by 20% on average.

The Grand Renaissance Dam (GERD) for example is Ethiopia's flagship infrastructure project, the $ 4.8 billion dam is being overseen by Italian firm Salini Impregilo. The headquarters of the Commercial Bank of Ethiopia (CBE) are being constructed at present by the China State Construction & Engineering Corporation. The 17,000 square metre cargo terminal facilities at the Bole International Airport will enable Ethiopia to offer Africa's biggest logistics hub to a variety of international customers, boosting trade levels. The new facility is expected to handle 600,000 tons of cargo at full capacity.

Posted on :21 Dec,2018