Dam construction in Tanzania to be acquired by Egypt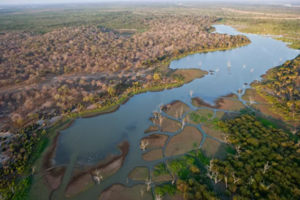 Egypt has confirmed that it is taking over construction of Tanzania's Stiegler's Gorge hydroelectric power station after its consortium, consisting of Elsewedy Electric and the Arab Contractors company, won the tender for building the dam.
Mostafa Madbouly, Egyptian Prime Minister and Tanzanian President John Magufuli signed the contract for the major hydroelectric dam project in the Rufiji River Basin in Tanzania at a whopping cost of US $2.9bn.
The engineer and chairman of Arab Contractors, Mohsen Salah said that the dam project lies within the framework of the Tanzanian government's plans to bring about a development renaissance in the country.
He added, "The project is one of the most important national and development projects in Tanzania as it addresses the country's energy problems and meets its water needs,"
Stiegler's Gorge hydroelectric power station
The project works involves the building of a major concrete dam to store the water needed for generating hydroelectric power from the power plant, along with constructing four more dams to store water and increase the overall expected water reserves of African nation to thirty three billion cubic meters (26.7 million acre-feet).
The elaborate scheme also includes the establishment of a hydroelectric power plant with a total capacity of 2,115 megawatts, 400-kilovolt power transmission lines to the nearest public grid and a 400-kilovolt substation power station he concluded. Speaking to a news agency, Diaa el-Kofi, an expert in dam construction said that the Egyptian companies won the Stiegler's Gorge dam contract due to the fact that Egypt is one of the leading countries in establishing dams.
He was also noted saying, "Egypt's technical and operational experience in the field of dams is exploited by the country to strengthen its presence and role in continent. The country has been involved in establishing dams within and outside continent."
Posted on : 10 Jan,2019
Buildmart is Africa's leading directory and market news website for the building and construction industry | Kenya | Tanzania | Rwanda | Ethiopia