Hyundai East Africa Ltd. building a better future for Tanzania with Buildexpo Africa
In November 2018, Hyundai East Africa Ltd., is participating at Buildexpo Africa– Tanzania to promote the state of the art Excavator R220LC-9S. As a Prime Platinum Exhibitor at the International Exhibition the company looks to attract top industry professionals from all over the continent, including Builders, Developers, Importers, Architects, Consultants, Engineers,Manufacturers and Investors who may be key decision makers for their companies engaged in various projects across the region.
Hyundai Heavy Industries Co. Ltd. is a global leader with diversified divisions including construction equipments and forklifts. The Hyundai Construction Equipment Division which was founded in 1985, has grown into a leading world class total construction equipment producer. This division has been credited with the development of 92 independent models including three types of construction equipment and three types of industrial vehicles: excavators, wheel loaders, forklifts, and skid steer loaders. The division sees value to nurture key dealers, provide financial support and incentives in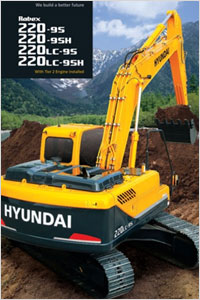 accordance with local market needs, and attend international exhibitions like the Buildexpo Africa – Tanzania in order to generate greater brand awareness and strengthen its business line.
The Hyundai East Africa Limited was established in 1991, with its core activities focused on Hyundai motor vehicles and Hyundai construction equipment (sales, parts & services). The group began its East African operations in Tanzania and has since diversified into construction equipment business from HHI.
"We Build a Better Future" is Hyundai's slogan and promise which has been instrumental in guiding the company. The equipments are known for their reliability, superior performance and sustained trouble free operation towards which the
Hyundai Team in East Africa is committed to and which reflect in their constant endeavors. With a wide range of equipment ranging from Excavators of various tonnage capacities, Wheel Loaders for different applications, reliable Backhoe Loaders, versatile Forklifts and Skid Steer Loaders the East African team is committed to after sales support and spares availability for the Equipments currently in operation in East Africa.
Hyundai has a manufacturing capacity of 22,000 units per year at its Ulsan factory in Korea. The division has one manufacturing plant in India and three manufacturing plants in China, along with overseas subsidiaries in the U.S.A., Europe, India and China, as well as offices in Chile, Columbia, Panama, Turkey, U.A.E. and Russia. The hallmark of the construction equipment is economical and ergonomic design with superb performance in mind. HHI's construction equipment models are marketed through 480 authorized distributors in 120 countries. More aggressive marketing strategies will continue to boost sales, based on new sales channels in Central America, South Africa, and the Middle East.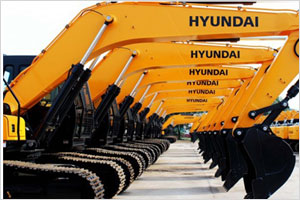 With renewed East African countries renewing focus and efforts on construction and rehabilitation of infrastructure including airports, railways, roads, bridges and ports, the demand for Hyundai heavy equipment is expected to rise. Tanzania offers many opportunities which cannot be ignored due to the strategic location and the resilient market. With a good infrastructure to support expansion and growth Hyundai looks to cement its market dominance in the coming years.
Posted on : 22 Sep,2018
Buildmart is Africa's leading directory and market news website for the building and construction industry | Kenya | Tanzania | Rwanda | Ethiopia