Mambilla Hydro power project gets $5.79bn for takeoff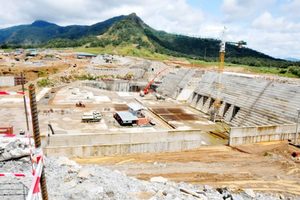 The Federal Executive Council, FEC has approved $5.792 billion for the construction of the 3,050 megawatts Mambilla Hydro-Power project at Gembu in Taraba, Nigeria.
The Minister of Power, Works and Housing, Babatunde Fashola said that the memorandum from the Ministry of Power, Works and Housing was to the award of the Mambilla Hydro-Power plant.
Mr. Babatunde Fashola said that there were several efforts in order to bring the project to reality. He also added he was very happy to announce the approval of the contract by the government. The construction should take about 72 months (6 years)," he said.
The minister has hopes that after the completion of the project it will boost the nation's economy. This is because it will unleash the potential of Mambilla in the fields of agriculture, tourism and energy. According to him, the process will include the construction of 700 kilometres of transmission lines and four dams.
Implications of the Mambilla Hydro power Project
The project will help Nigeria solve the climate change issue and fulfill its commitment under the Paris Agreement. The federal government and the China Export Import, EXIM, Bank will jointly handle the financing of the project. The federal government will provide 15 per cent while EXIM bank will provide 85 per cent of the cost.
The Minister of Power, Works and Housing, Babatunde Fashola was incharge of giving the news about the project. He did this alongside the ministers of labour and employment as well as the minister of sports. The Minister was giving a talk to the State House correspondents on the outcome of the Council's meeting.
Accompanied by officials from the Federal Ministry Power,works, 40 Chinese engineers visited the the Mambilla Hydro power project . A team of experts handled the inspection of the site. The areas mapped out for the project are from River Dongo in Gembu, headquarters of Sardauna local government area.
Posted on : 05 Sep,2017
Buildmart is Africa's leading directory and market news website for the building and construction industry | Kenya | Tanzania | Rwanda | Ethiopia