The rehabilitation of the R28 road in South Africa has commenced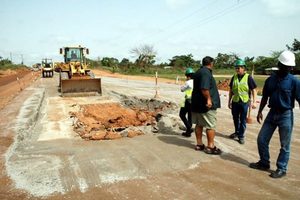 The rehabilitation of the R28 road in South Africa has commenced. However, the Gauteng Department of Roads and Transport has appealed to motorists using the road to exercise patience and caution due to the current rehabilitation works taking place along the route.
R28 location is at Sebokeng and Westonaria, south west of Johannesburg. The road has degraded over the years. As a result of increased road usage by heavy duty trucks, particularly from the mines and farms in the area.
Project scope
Moreover, the project scope includes significant road works along 29km, reinstating road markings and signage. The project also involves replacing damaged signs and guardrails, clearing the road reserve and drainage structures and cutting overgrown grass.
"The single carriageway provides a bypass for road traffic. From the south of Johannesburg to the N12 and the North West Province. It essentially supports the agricultural and mining sectors of the economy," said Gauteng MEC for Transport Ismail Vadi.
MEC Vadi has called on motorists to familiarize themselves with planned lane reductions or road closures during off-peak and peak times. Additionally, motorists need to plan their routes in advance to avoid delays and consider alternative routes.
Road department is mindful of the traffic inconvenience due to motorists and appeals for patience, courtesy and consideration during this period.
However, motorists are also cautioned to exercise patience. The department is undertaking a number of road rehabilitation projects which are at various stages of construction.
Posted on : 31 Aug,2017
Buildmart is Africa's leading directory and market news website for the building and construction industry | Kenya | Tanzania | Rwanda | Ethiopia