Angolan President Unveils Unidade Operativa Flyover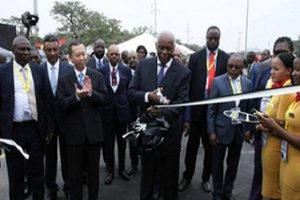 Angolan President, José Eduardo dos Santos has commissioned the Unidade Operativa flyover under the watchful eye of hundreds of citizens. Angolan citizens are looking forward to the improvement in traffic flow on the Deolinda Rodrigues Avenue. The flyover had been dormant for the last six months.
The project aims at improving circulation in the section from BCA (Grafanil-Viana) to the Unidade Operativa (both directions) and from Senado da Câmara road to Tourada.
Unidade Operativa flyover is a 5.5m high, 510m long, 20m wide. The flyover project design has four lanes. Two lanes for each direction, with 14 meters wide and 3.5 meters for each lane. Angola is one of the fastest growing economies in the world in the last decade. Thanks to its success as Africa's second biggest oil exporter.
The country's GDP expanded at an annual 11% and per capita. Income rose more than eight‐fold during this period. Today, GDP per capita stands above US$5000, which is considered a middle‐income level.
Road Transport
The Angolan authorities has invested a tremendous amount of money over the last few years to reconstruct its dilapidated road infrastructure. Specifically, the level of public spending for roads and bridges has amounted to US$12.7bn in the last decade, or over 30 per cent of total public investments.
Angolan authorities also expect to spend US$22.6bn during 2013‐2025 in the construction of new roads and the rehabilitation and maintenance of existing ones. This makes the country one of the highest spenders on road infrastructure in Africa.
Posted on : 18 Aug,2017
Buildmart is Africa's leading directory and market news website for the building and construction industry | Kenya | Tanzania | Rwanda | Ethiopia