Tanzania plans to expand Terminal II of the Julius Nyerere International Airport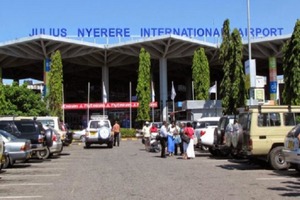 The Tanzanian government has plans to expand the arrivals hall at the Terminal II of the Julius Nyerere International Airport (JNIA). The expansion aims at increasing the passenger capacity. Edwin Ngonyani, Deputy Minister of Works, Transport and Communications announced the plans during a press briefing.
Project challenges
The project is however faced with challenges. The major challenges facing the intended expansion project, is the small size of the arrivals' hall and shortage of man power at JNIA's Immigration department.
The ministry of Foreign Affairs and East African Cooperation has nonetheless committed to reduce queues at the international arrivals. Those who apply for visas on entry, shall receive the service at Tanzania's embassies abroad. Furthermore, the government intends to promote tourism and boost growth of the country's gross domestic product (GDP).
Tanzania as a tourist destination
Moreover, the focus is on promoting Tanzania as a unique tourist destination, thus environment and upgrading measures are put in place to support infrastructure.
Additionally, the Home Affairs Ministry is worried about lack of staff at the immigration department. However, the ministry pledges to deal with the situation through recruiting additional officers and modern equipment to ease the clearance process.
Julius Nyerere International Airport is the international airport of Dar es Salaam, the largest city in Tanzania. It is located about 12km southwest of the city centre. The airport has flights to destinations in Africa, Europe, and the Middle East. It is named after Tanzania's first president Julius Nyerere.
In October 2005, 'Dar es Salaam International Airport' (DIA) obtained the name "Mwalimu Julius Kambarage Nyerere International Airport." On 1 November 2006, the airport got yet a new name "Julius Nyerere International Airport. A total of 9,501,265 passengers used the airport from 1980 to 2004, averaging 2,770 passengers per day.
In April 2013, the construction of the first phase of Terminal III, kicked off. The terminal is capable of handling 3.5 million passengers per year. The Tanzania Airports Authority signed the terminal contract with BAM International of the Netherlands.
Posted on : 17 Aug,2017
Buildmart is Africa's leading directory and market news website for the building and construction industry | Kenya | Tanzania | Rwanda | Ethiopia