Akosombo hydro project in Ghana has notable increase in water levels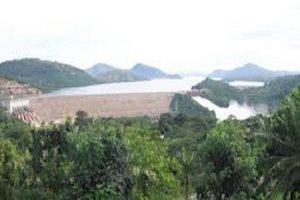 Plans are underway by the Volta River Authority (VRA) management to boost power generation, at two stations on Volta River. These sations are Kpone Thermal Power and Akosombo Hydro Generation Station.
The Volta River Authority has claer intentions to double the capacity of the Kpone Thermal Power Plant and has also stated that water levels at Akosombo Hydro Generation Station have increased.
Richard Oppong-Mensah, the director of the Akosombo Hydro Generation Station, during a tour at the hydro station last week said that the authority has minimized the level of generation at the Akosombo Dam to enable water levels to appreciate as the rainy season is already here.
The water levels as of Friday June 30, 2017 were 240.42 ft, about 5 ft more than it was at this time in 2016 – 235.50 ft. There's an expected increase, as the rain is at its peak between now and November.
The plant has a set up capacity of 1020MW and a reliable capacity of 900MW. The Akosombo Hydro Generation Station however, is currently generating 353MW of power according to Ghanaian media. On the other hand, the Kpone Thermal Power Plant has a set up capacity of 220MW and a dependable capacity of 200MW.
An estimate of at least $173M may be required for the expansion works for the plant, which currently uses distilled fuel oil and gas for its generation.
Oppong-Mensah acknowledged that they prefer running the thermal plant than the hydro plant most especially when the water level is extremely low. Poor maintenance of the dam could destroy the turbines. He also explained that although the use of renewable energy may not be cheap, a lot of people are resorting to solar panels to cut down the high demand of energy on the national grid.
Generally, hydro is considered more environmental friendly than thermal because thermal runs on heavy fuel while hydro runs on water.
Posted on : 10 Jul,2017
Buildmart is Africa's leading directory and market news website for the building and construction industry | Kenya | Tanzania | Rwanda | Ethiopia