East Africa Breweries Ltd to construct a US$ 145m brewery in Kisumu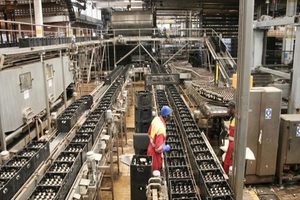 East Africa Breweries Limited (EABL) is set to construct a US$ 145m state-of-the-art brewery in Kisumu, Kenya for its Senator Keg; this was announced by President Uhuru Kenyatta during the launch recently.
The mega investment will result in 110,000 jobs and will re-position Kenya's small holder sorghum farmers in line with the government's agri-business ambitions.
"According to projections, this plant alone will lead to increased utilisation of sorghum from the current 20,000 metric tonnes to around 40,000 in the next five years.
Increased demand for sorghum will see the number of contracted farmers grow from 30,000 to around 45,000. As a result, gross additional farmer earnings are expected to reach over Sh6 billion annually over the next decade," said the president.
He added that the brewery for which ground will be broken on July 16, will engage sorghum farmers from Kisumu, Siaya, Migori, Homa Bay, Tharaka Nithi, Kitui and Makueni.
Other major investments made across the country that have been quite impactful include; the first ceramic tile manufacturing company in Kenya: Twyford Ceramics.
Wrigley's US$ 60m plant in Machakos which is nearing completion, Bidco is constructing a US$ 40m factory in Thika, Keroche Breweries recently opened a US$ 50m plant in Naivasha and Eldoret is now home to Kenya's first-ever private Special Economic Zone with over US$2bn in Foreign Direct Investment and over 100,000 jobs to follow.
To add on that Sultan Hamud has the largest can manufacturer in Africa, GZI, and the leather city under construction in Machakos will employ 50,000 Kenyans once complete.
Works on the plant which will sit on a 50-acre property in Kisumu are projected to take 18 months to complete.
Posted on : 05 Jul,2017
Buildmart is Africa's leading directory and market news website for the building and construction industry | Kenya | Tanzania | Rwanda | Ethiopia