Road built to ease traffic congestion at SGR stations in Kenya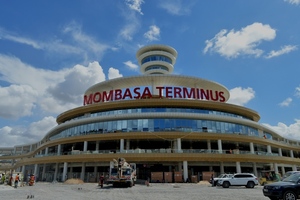 Kenya now says that access roads to SGR stations in Kenya will be constructed to ease traffic congestion. A 1.5km access road to Miritini Railway Station for instance from the shopping center is projected to take seven days to complete. This is according to Infrastructure Principal Secretary John Mosonik.
This is with a view of easing the traffic movement to the station.
The construction is estimated to cost approximately $1m and is currently remaining with only 15% to reach completion.
The commissioning of the road will help in the management of traffic flow as well as the transfer of water and electricity.
Kenya Railways Managing Director Atanas Maina said since the launch of the services, there has been a surge in passenger numbers. Kenya Railways is also expected to introduce trains that would stop at the seven stations of Mariakani, Miaseni, Voi, Mtito Andei, Kibwezi, Emali and Athi River.
Meanwhile, Mr Mosonik inspected the upgrading to bitumen standards of the Lunga Lunga-Vanga road.Three kilometres of the road will be tarmacked in the coming six months. He assured the residents that the road would reach completion within the stipulated time frame.
He also said that the government would award a tender for the construction of the next 68km of the road in two weeks.
The road has been an inconvenience to many travelers using the new train due to its poor condition.
During the SGR launch on May 31, President Uhuru Kenyatta ordered construction of the road as well as a bus park to allow passengers to be dropped off at the facility.
Works on the road are being supervised by the Kenya Rural Roads Authority.
Posted on : 21 Jun,2017
Buildmart is Africa's leading directory and market news website for the building and construction industry | Kenya | Tanzania | Rwanda | Ethiopia