Cost effective solutions at Roofexpo Kenya 2019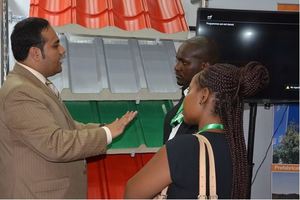 The 22nd Buildexpo Kenya to be held from 4th to the 6th of July at KICC this year will launch a parallel event for the roofing industry " Roofexpo East Africa ". The event will serve as a platform for both industry professionals who are keen to find advanced technologies and consumers looking for fit, but cost effective solutions.
" Roofing consumes quite a large portion of the builder's budget and we have been receiving several inquiries from builders and individuals looking for suppliers ", said Stephanie Nisle, Executive Director of Expogroup, the organizers of the event. " The growing interest amongst participants has been another motivation for us to introduce this sub-event. Being the largest economy in East Africa, Kenya continues to attract a high number of global roofing companies which are eager to tap into the country's booming real estate industry," she added.
Roofexpo Africa provides a breakaway platform to the booming roofing market showcasing key products and technologies including Roof Tiles, Roof Decks, Roof Hatches, Roof Pavers, Coatings, Sealants &Adhesives, Aluminium Roofing Systems, Roof Fasteners & Fixtures, Tools & Accessories, Ventilation, Waterproofing, Vapor Retarders, Roof Landscaping Products, Tensile Fabric Architecture, Structural Steel, Solar Roofs, BIPV and much more.
The global giants in roofing technology and products are increasingly finding Kenya as a favorable investment destination thanks to the country's rapidly expanding middle class that has a refined taste for high quality products. With the growing desire for artistic buildings that can stand out, innovativeroofing products are increasingly finding their way deeper in the hearts of almost all estates. And the advantages are many—long lasting, classy, variety of colors to choose from, able to withstand strong winds and so on. Yet, masked in these advantages are also challenges that can prove costly to eliminate if right products are not chosen at the very beginning.
Builders and architects are looking to source the best products that can fulfill the need of the large number of projects currently underway and also help meet cost and quality. Whether the need is for building a new home or renovating or large scale housing or industrial project, it is important to choose roofing materials that are sustainable, durable, low maintenance and visually appealing.
The event is positioned as an opening to a huge market as it not only caters to Kenya, but the entire East and Central African market.
Source: www.expogr.com
Allwyn Fernandez
Media Manager
Buildexpo( East Africa )
Email: buildexpo@expogr.com
Int'l: +971 43050755
Posted on : 02 Apr,2019
Buildmart is Africa's leading directory and market news website for the building and construction industry | Kenya | Tanzania | Rwanda | Ethiopia